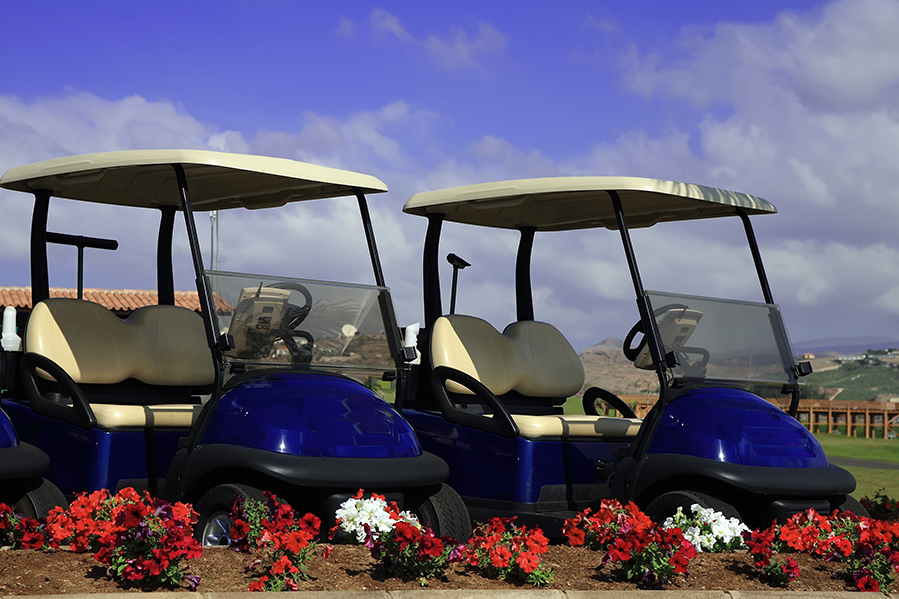 Make your golf cart your very own is all part of the fun. With some upgrades you can better tailor your cart to your needs and desires, whether they be functional or aesthetic. Not all golf cart upgrades require major engine or body work and not all upgrades have to cost a fortune. Here is a look at some affordable upgrades that can change the entire look of your golf cart from Carolina Golf Cars of Charlotte.
Lift Kits
Having a lift kit added to your golf cart is an easy way to make a bold statement. By raising the body of the golf cart further from the ground you will gain more ground clearance. This means there is less risk of bottoming out and potential damaging your carts, especially when driving off-road or on uneven terrain. Lift kits are also beneficial to those operating a street legal golf cart, A.K.A low speed vehicle. The added height a lift kit creates will make the golf cart more visible to regular motor vehicles, certainly those with their own lift kits.
Hubcaps and Rims
The selection of hub caps and rims for golf carts is just as extensive as it is for cars. Turbine hubcaps or chromed rims are just a couple of varieties that can really make your golf cart stand out from the rest of the pack. Carolinagolfcars.com/parts-accessories/ has a variety of hubcaps, rims, and tires to select from.
Seat Cushions
Deluxe seat cushions can provide your golf cart with a completely different look. These are available in a wide array of colors. Brightening up the inside if your golf cart is a cheaper alternative to getting a custom paint job. But combining colored seat cushions with a custom paint job will really enhance the look of your cart.
Steering Wheel
There are lots of different steering wheels you can incorporate to your golf cart. A wood-grain steering wheel can provide a more elegant look while camouflage steering wheels go great with off-road custom golf carts used for hunting. Steering wheel covers are also available in wide varieties.
Custom Paint
Why settled for any ordinary color golf cart when your cart can truly stand out? Custom paint jobs are pretty much unlimited. If you can think it, someone can paint it. This is not only limited to color, but it extends to designs as well. If you want a golf cart with flames on the side, there is no reason you cannot have it.
Carolina Golf Cars has the capability to provide you with the golf cart of your dreams. Whether you are looking for a used golf cart, street legal golf carts or Yamaha golf cars, there is something for everyone in our showroom. Carolina Golf Cars also offers golf car repair and accessories from all the industry leaders.