Golf Carts Service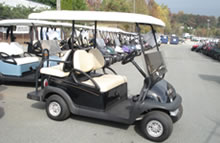 Service rises to another level at Carolina Golf Cars as we offer a multitude of options to our customers. Our in-house repair shop is stocked with parts from all different kinds of manufacturers. Even if we don't have a part in stock, we will order it right away so your golf cart can get back in service as quickly as possible. Pricing is also very affordable and we offer free in-shop estimates. If your golf cart has been custom made, there is also no reason for concern. The specialists at Carolina Golf Cars have a vast supply of custom golf cart parts on site. There is no job too difficult to handle and no brand our team cannot repair. Customer satisfaction is also guaranteed with every service we offer. As an added benefit, our mobile team can come right to you and pick up your golf cart. We save you the hassle of having to transport your golf cart. Delivery of your fixed cart is another option available to our customers. Customer service is a big part of what we do at Carolina Golf Cars as we make sure every single customer is a satisfied one.
Factory Trained Technicians by Carolina Golf Cars
Carolina Golf Cars has over 30 years of experience in servicing golf cars and utility vehicles throughout North and South Carolina. We offer a complete in-house service department and the convenience of mobile service. We'll even pick up and deliver your car if you need us to.
We service all Club Car, EZ-GO and Yamaha and offer everything you need to make sure your downtime is as short as possible. 
Satisfaction Guaranteed' on all of our parts and labor
Large inventory for all major brands. If we don't have the parts your car needs in stock, we will get them ASAP. We are a parts distributor for Club Car, Yamaha and EZ-GO
We perform all repairs – major and minor
Complete refurbishing and custimization of your car is available
Long Term Storage Tips from Club Car – Electric Cars or Gas Cars
For more information, contact our Service Department at (704) 631-9333 or by email at service@carolinagolfcars.com