There are several ways to enhance the look of your golf cart. Many different customization features can provide your cart with its own unique look. Here's a glimpse at just a few of popular and innovative add-on features people are using on their golf carts from Carolina Golf Cars Dealership.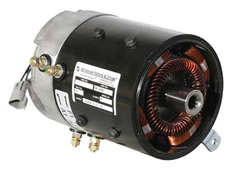 Upgraded motors
Most golf carts are equipped with a governor that regulates its speed. In some instances that can enhance safety, but other times it can just slow you down. If you choose to operate your golf cart somewhere other than a golf course, you might need to get where you are going a little quicker. Upgrading your motor will keep you from having just another slow-moving golf cart with some added speed and torque.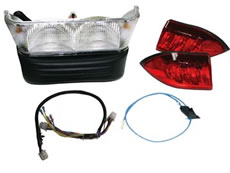 Lights
Operating a golf cart in a community can put drivers at risk. If your cart is anywhere near cars, it is important that you are noticed. Adding taillights, headlights and turn signals are excellent ways to maintain safety standards when operating a golf cart. Not only will it help at night, but it will enable your golf cart to be seen more clearly on overcast days, in fog and at dusk or dawn.
Painted Bodies
Give your used golf carts a unique and fresh look by customizing the exterior with a new paint job. There is no reason you have to ride around on a golf cart that has a boring, plain color. Spice it up with different colors and designs as the customization process can truly make you stand out on the golf course. To make it pop a little more, go for the option of adding alloy wheels.
Windshields
A front windshield can help on early mornings when the weather can be a bit on the cool side. Windshields keep winds from rippling through you as you travel through a course. It is also a shield from random golf balls that might inadvertently come your way as a potential danger. Many of these windshields have a horizontal latch, which can be lowered to provide better visibility.
Camouflage
Any hunter knows the weariness that can set in after hours of walking through the woods. Golf carts can now be decked out with camouflage to aid in hunting. You could enjoy riding in clearings while seeking out new spots to hunt. It enables hunters to cover a lot more ground and can also make hunts more successful. Your entire customized golf cart would be covered with camouflage, including the seat, tires, steering wheel and more.
Overhead Audio System
Travel along with a clear sound of your favorite songs as part of your overhead audio system. There's no reason you shouldn't have access to your favorite music while on your golf cart. A radio seems almost like an essential in your car and it is not much different for many golf car owners. This can include radio, mp3 player or CD player.
Whatever kind of add-on feature you want to enhance the look of your golf cart, Carolina Golf Cars can help. We sell a wide variety of parts and accessories as well as custom golf cart parts.