Express S6
There's a Bigger World Waiting for You
OVERVIEW
Rediscover the moments that take your breath away with the all-new E‑Z‑GO® Express S6. The Express S6 has room for 6 to embark on your effortless adventures. With a choice of a 72V powertrain that offers unparalleled power, an efficient 13.5-HP closed-loop EFI gas powertrain, or an industry leading ELiTE Lithium powertrain, the Express S6 will take you on a getaway you'll never forget. With the most legroom in the industry, convenient dashboard storage pockets, and new bold styling, the Express S6 is sure to set you apart.
FEATURES
FUNCTIONAL DASHBOARD WITH STORAGE
New level of customization with more dashboard storage.
PREMIUM STEERING WHEEL
Premium standard golf cart wheel accessorized to increase driver comfort and elevate your golf cart's style.
REAR SEAT WITH ENCLOSED STORAGE
Rear-facing golf cart seat for a 6 passenger ride with convenient enclosed storage for all of your adventures.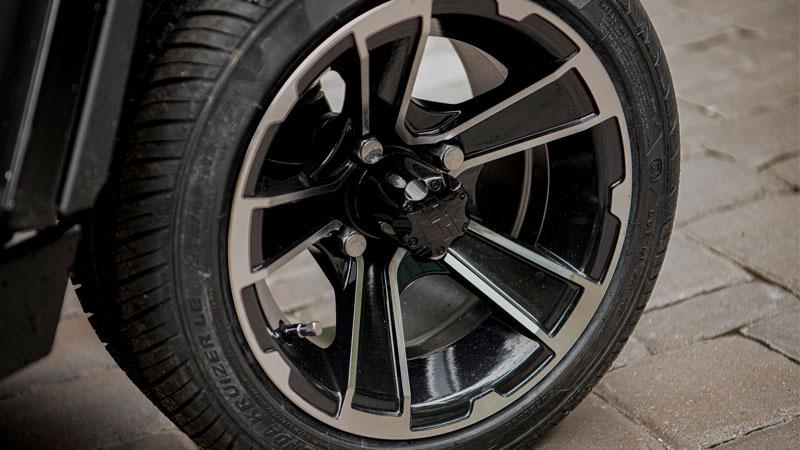 NEW TIRE AND WHEEL OPTIONS
Premium tires and wheels improve ride quality and give another level of customization to your 2 passenger golf cart.
SPECIFICATIONS


ELiTE Lithium
72V Electric
Gas
FRAME
Welded steel with E-coat & DuraShield powder coat
BODY & FINISH
Injection Molded TPO
AVAILABLE BODY COLORS
Black, Electric Blue, Flame Red, Inferno Red, Metallic Charcoal, Ocean Gray, Platinum, Bright White, Slate
AVAILABLE SEAT COLORS
Oyster, Tan, Black, Grey on Black, White on Beige
AVAILABLE PREMIUM SEAT COLORS
Black, Mushroom, Grey


ELiTE Lithium
72V Electric
Gas
Overall Length
144.5 in (367 cm)
Overall Width
49 in (124 cm)
Overall Height (w/o roof)
51 in (130 cm)
Overall Height (w/ roof)
74.5 in (189 cm)
WHEEL BASE
99.5 in (253 cm)
FRONT WHEEL TRACK
38.5 in (98 cm)
REAR WHEEL TRACK
38.5 in (98 cm)
GROUND CLEARANCE @ DIFFERENTIAL
5.5 in (14 cm)


ELiTE Lithium
72V Electric
Gas
POWER SOURCE
56 Volt DC
72 Volt DC
4 Cycle 24.5 cu in (401 cc)
VALVE TRAIN
–
–
Single Cylinder OHV
MOTOR TYPE
56 Volt AC
AC Induction
–
FUEL SYSTEM
–
–
Closed-Loop Electronic Fuel Injection
HORSEPOWER (KW)
13.1 hp (9.8 kW)
22.4 hp (16.7 kW) Peak
13.5 hp (10.1 kW) Exceeds SAE J1940 Std
ELECTRICAL SYSTEM
56 Volt
72 Volt
Starter/Generator – Solid State Regulator
BATTERIES (QTY/TYPE)
Three Lithium ion 56 Volt
Six, 12 Volt Deep Cycle
One, 12 Volt Maintenance Free
KEY OR PEDAL START
Pedal
AIR CLEANER
–
–
Replaceable Dry Cartridge
LUBRICATION
–
–
Pressurized Oil System
OIL FILTER
–
–
Spin-On
COOLING SYSTEM
–
–
Air Cooled
FUEL CAPACITY
–
–
5.96 Gallon (22.6 L) Tank
BATTERY CHARGER
ELiTE World Charger 120/230 VAC, 10′ DC Cord, UL/CSA, CE
World Charger, (10 ft Cord) UL/CSA
–
SPEED CONTROLLER
300 Amp AC
350 Amp AC
–
DRIVETRAIN
Motor Shaft Direct Drive
Motor Shaft Direct Drive
Continuously Variable Transmission (CVT)
TRANSAXLE
Differential with Helical Gears
GEAR SELECTION
Dash Mounted Forward-Neutral-Reverse
Dash Mounted Forward-Neutral-Reverse
Forward-Reverse
REAR AXLE RATIO
16.99:1 (Forward)
17:1
11.47:1 (Forward); 14.35:1 (Reverse)


ELiTE Lithium
72V Electric
Gas
SEATING CAPACITY
6-Passenger
DRY WEIGHT
1000 lb (454 kg) (without battery)
1009 lb (458 kg)
1090 lb (494 kg)
CURB WEIGHT
1100 lb (499 kg)
1501 (681 kg)
1130 lb (513 kg)
VEHICLE LOAD CAPACITY
1200 lb (544 kg)
OUTSIDE CLEARANCE CIRCLE
25.5 ft (7.8 m)
32.5 ft. (9.9 m)
32.5 ft. (9.9 m)
SPEED (LEVEL GROUND)
Up to 19 mph +/- 0.5 mph (Up to 30.6 kph +/- 0.8 kph)


ELiTE Lithium
72V Electric
Gas
STEERING
Self-Compensating Rack and Pinion
SUSPENSION
Leaf Springs with Hydraulic Shock Absorbers
SERVICE BRAKE
Rear Wheel Mechanical Self-Adjusting Drum
PARKING BRAKE
Self-Compensating, Single Point Engagement
TIRES
205/65-10 Loadstar Tire with 10″ Daytona Wheel