Express S2
Part Power, Part Style, and All You
OVERVIEW
Cruise the neighborhood in style. The all-new Express S2® boasts new bold styling, higher ground clearance, and the added power of E‑Z‑GO's exclusive 72V AC powertrain. With enhanced sport-inspired handling and boosted energy efficiency, you can go farther than ever before. The Express S2 golf cart will get you to your happy place, and back again.
MODELS
Express S2 72V
Your Express S2 will be the life of the party with stylish two-toned seats, a Kicker speaker, brushguard, 5 panel mirror and more!
54″ Black Top and Fold Down windshield
Black Premium Golf Cart Seats
10″ Loadstar SBR Tires on FTV Wheels
Kicker Speaker
Brush guard and 5 Panel Mirror
FEATURES
72V AC POWERTRAIN
Industry leading 72V technology provides unmatched power and efficiency.
IMPROVED ELECTRIC METER GAUGE
Improved multifunction gauge provides easy to read golf cart speed, battery gauge, and hour meter.
FUNCTIONAL DASHBOARD WITH STORAGE
New level of customization with more dashboard storage.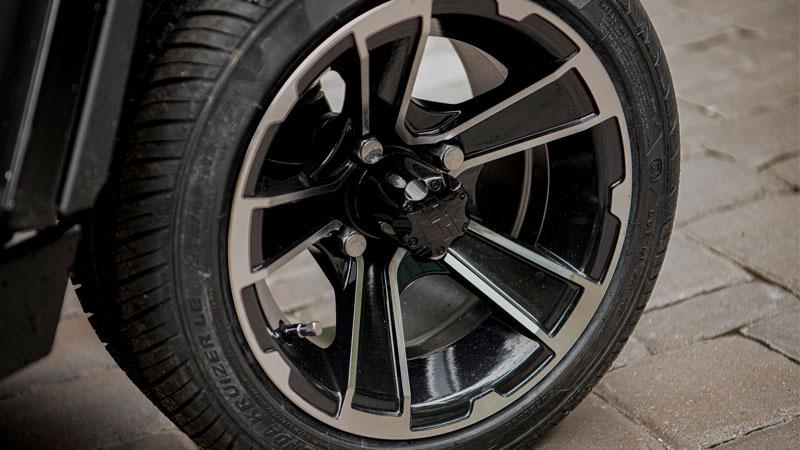 NEW TIRE AND WHEEL OPTIONS
Premium tires and wheels improve ride quality and give another level of customization to your 2 passenger golf cart.
SPECIFICATIONS


| | Express S2 |
| --- | --- |
| Frame | Welded steel with E-coat and DuraShield™ powder coat |
| Body & Finish | Injection Molded TPO |
| Available Colors | Black, Bright White, Electric Blue, Flame Red, Inferno Red, Metallic Charcoal, Ocean Grey, Platinum, Slate |
| Available Seat Colors | Black, Grey on Black Stitched, White on Beige Stitched |
| Available Premium Seat Colors | Black, Grey and Mushroom |


| | Express S2 |
| --- | --- |
| OVERALL LENGTH | 97 in (246 cm) |
| OVERALL WIDTH | 49.5 in (124 cm) |
| OVERALL HEIGHT (W/O ROOF) | 51 in. (129 cm) |
| OVERALL HEIGHT (W/ ROOF) | 67.5 in. (171 cm) |
| WHEEL BASE | 67 in (170 cm) |
| FRONT WHEEL TRACK | 38.5 in (98 cm) |
| REAR WHEEL TRACK | 38.5 in (98 cm) |
| GROUND CLEARANCE @ DIFFERENTIAL | 5.25 in (13.3 cm) |


| | Express S2 |
| --- | --- |
| Power Source | 72 Volts Ac |
| Motor Type | Ac Induction |
| Horsepower (Kw) | 22.4 Hp (16.7 Kw) |
| Electrical System | 72 Volt |
| Batteries (Qty/Type) | Six, 12 Volt Deep Cycle |
| Battery Charger | 72v World Charger, 10' Dc Cord |
| Key Or Pedal Start | Pedal Start |
| Speed Controller | 350 Amp Ac |
| Drivetrain | Motor Shaft Direct Drive |
| Transaxle | Differential With Helical Gears |
| Direction Selector | Dash Mounted Forward-Neutral-Reverse |
| Rear Axle Ratio | 16.99:1 (Forward) |


| | Express S2 |
| --- | --- |
| Seating Capacity | 2-Passenger |
| Dry Weight | 714 Lb (324 Kg) (Without Batteries) |
| Curb Weight | 1206 Lbs. (547 Kg) |
| Vehicle Load Capacity | 500 Lb (227 Kg) |
| Outside Clearance Circle | 19 Ft (5.8 M) |
| Speed (Level Ground) | Up To 19.0 Mph +/- 0.5 Mph (30.6 Kph – 0.8 Kph) |


| | Express S2 |
| --- | --- |
| Steering | Self-Compensating Rack And Pinion |
| Suspension (Front & Rear) | Leaf Springs With Hydraulic Shock Absorbers |
| Brakes | Rear Wheel Mechanical Self-Adjusting Drum |
| Parking Brake | Self-Compensating, Single Point Engagement |
| Tires | 10" Loadstar On Daytona Wheel |