The E‑Z‑GO Valor 6 gives you the space to do so much more. With a distinct combination of durability, functionality, and spacious comfort, it will become more about the ride than the destination. The Valor 6 will keep you going wherever the road takes you–with room to spare.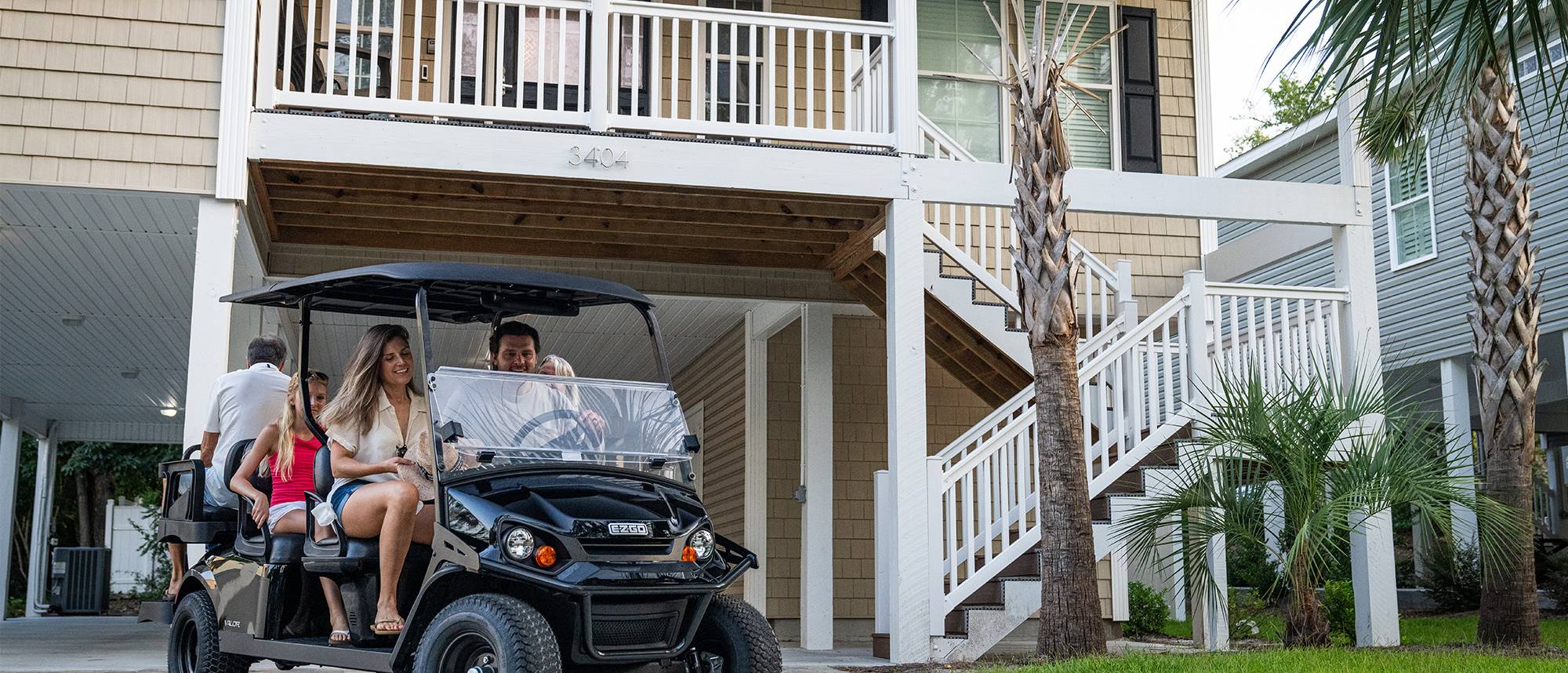 Available Powertrains
The E‑Z‑GO Valor 6 is offered exclusively as a 48V electric vehicle, delivering long-lasting battery life and proven performance.
Specs
Dimensions

| | 48V |
| --- | --- |
| Overall Length | 141.5 in (359 cm) |
| Overall Width | 45.88 in (117 cm) |
| Overall Height (w/o roof) | 48.38 in (123 cm) |
| Overall Height (w/ roof) | 72.63 in (184 cm) |
| WHEEL BASE | 94 in (239 cm) |
| FRONT WHEEL TRACK | 36.25 in (92 cm) |
| REAR WHEEL TRACK | 36.25 in (92 cm) |
| GROUND CLEARANCE @ DIFFERENTIAL | 5.5 in (14 cm) |
Power

| | 48V |
| --- | --- |
| POWER SOURCE | 4-12 V Lead Acid Batteries |
| VALVE TRAIN | - |
| MOTOR TYPE | AC Induction |
| FUEL SYSTEM | - |
| HORSEPOWER (KW) | - |
| ELECTRICAL SYSTEM | 48 V Primary |
| BATTERIES (QTY/TYPE) | 4-12 V Lead Acid Batteries |
| KEY OR PEDAL START | Pedal |
| AIR CLEANER | - |
| LUBRICATION | - |
| OIL FILTER | - |
| COOLING SYSTEM | - |
| FUEL CAPACITY | - |
| BATTERY CHARGER | 48 V 650 W SC-48 (Delta Q) Charger, 3 m charging cord |
| SPEED CONTROLLER | 350 Amp |
| DRIVETRAIN | Motor Shaft Direct Drive |
| TRANSAXLE | Differential with helical gears |
| GEAR SELECTION | Dash Mounted FNR/key switch |
| REAR AXLE RATIO | 16.99:1 (Forward) |
Performance

| | 48V |
| --- | --- |
| SEATING CAPACITY | 6-Person |
| DRY WEIGHT | 994 lb (452 kg) (without batteries) |
| CURB WEIGHT | 1322 lb (601 kg) |
| VEHICLE LOAD CAPACITY | 1200 lb (544 kg) |
| TURNING RADIUS | 16.03 ft (4.9 m) |
| OUTSIDE CLEARANCE CIRCLE | 32.05 ft (9.8 m) |
| SPEED (LEVEL GROUND) | 19.5 Mph (31.4 Kph) |
Steering & Suspension

| | 48V |
| --- | --- |
| STEERING | Self-compensating reduction rack and pinion |
| SUSPENSION | Leaf springs with hydraulic shock absorbers |
| SERVICE BRAKE | Dual rear wheel mechanical self-adjusting drum |
| PARKING BRAKE | Self-compensating, single point engagement |
| TIRES | Kenda K500 20x8-10 |
Body & Chassis

| | 48V |
| --- | --- |
| FRAME | Welded steel with DuraShieldTM powder coat and e-coat |
| BODY & FINISH | Injection Molded TPO |
| AVAILABLE BODY COLORS | - |
| AVAILABLE SEAT COLORS | - |
| AVAILABLE PREMIUM SEAT COLORS | - |
Vehicles as photographed may include options not included on base model